Passivation is an important part of avoiding corrosion to metal. Although stainless steel is already considered corrosion resistant, factors such as grinding, scrapping and fluctuating the temperature of the metal weaken the durability of the tank. Combining our HT-2222 Passivator Acid with our tank fogger makes tank passivation quick and easy.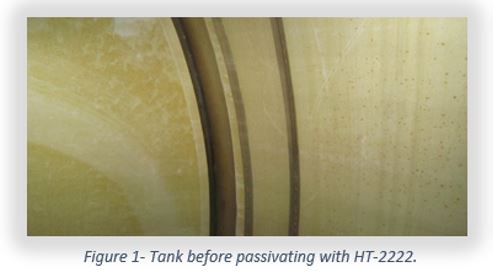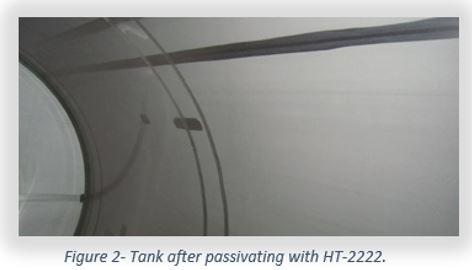 Passivation is a two-step process. First, all unwanted particles such as free irons are removed which remits the stainless-steel back to its original specifications. Removing the unwanted particles further lessens the likelihood of corrosion. To accomplish this, wash the tank/metal surface thoroughly with a strong detergent as Dyna-Solv 101 to rid of any residues (oils, grease, etc.). This should be followed by a light acid wash with our Dyna-Brite Aluminum Brightener to ensure all unwanted particles (rust scaling, mineral deposits) are removed. After a final rinse, surface is ready to be passivated.
Next, our HT-2222 passivator acid, is (ideally) fogged/applied into the tank to help rebuild damaged surfaces. It acts like a mild oxidant in the restoring process. Our passivation products work by creating a protective "passive" coating that causes the surface to lose chemical reactivity, which is the cause of rusting. Once the HT-2222 Passivator is applied, let product sit on surface for 25 minutes and flush to a neutral pH. This two-step process helps tank cleaners ensure the metal will continue to provide stability and be protected by an array of external environmental factors. It also helps purify the surface of the metal it is used on.
HT-2222 Passivator acid and our other passivation products help restore the metal back to its original state much quicker than if it were to do so naturally. Advantages to passivating include improving corrosion resistance, cleanliness of the surface, extends the life of the tanks all while giving them a nice clean looking finish. It is a highly recommended process, especially since there are countless chemicals that come in contact with the metal on a day to day basis. Offering passivation services can also open new streams of revenue.
A fog-type application is the recommended method for this process. A-ONE offers a fogger that caters to tank cleaning. The fogger vaporizes the acid to help conserve the amount of product used. For tanks with a clean out cap in the crash box area, the fogger can be screwed onto the clean out cap and will disperse evenly throughout the whole tank. No crash box? No problem. We can help modify fogger or help locate a better application method to better fit your operation. Contact an A-One sales representative for more information and product literature.