Reduce Hand Labor by hours with the Dyna-Strip 4000 Latex Pre-Solve System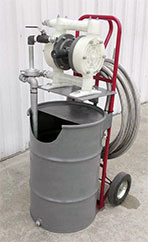 An A-ONE's on-site demonstration for cleaning tough acrylic and synthetic latex paint products concluded successfully with the help of our specialized tank cleaning equipment. This eliminated hours of hand labor with our products designed for cleaning set-up latex.
PROJECT
A-ONE was contacted by a tank truck company that specializes in the transport of latex products for the consumer paint manufacturing industry. They were spending hours scrapping and hand padding out their trailers that did not come clean on their wash bays and asked if we could provide a cleaning process to eliminate the hand labor.
SOLUTION
A-ONE recommended and demonstrated the effectiveness of our Dyna-Strip 4000 Latex Pre-Solve using a pre-solve system. During the demonstration, we also recommended some mechanical changes to their vat system that would increase their cleaning solution temperature. Then, they began charging their vat using our Dyna-Strip 2020 and Dyna-Strip Latex Powder combination and running solution in trailers.
RESULTS 
By pre-solving the trailers with our Dyna-Strip 4000 latex pre-solve, it heavily removed a large portion of latex which eliminated hours of hand labor. When recirculating our Dyna-Strip Latex Powder and Dyna-Strip 2020 blend helped reduce the number of trailers that needed to be pre-solved. These latex cleaning solutions have made cleaning tough latexes much easier.